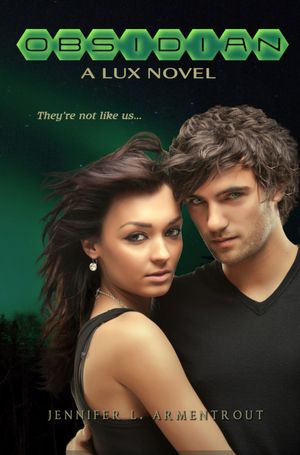 Obsidian (A Lux Novel, Bk.1)
by Jennifer L. Armentrout
Entangled Publishing, 1st Ed.
Released: December 6, 2011
268 pages
ISBN: 978-1-937044-23-7
Description on the book:
Starting over sucks.
When we moved to West Virginia right before my senior year, I'd pretty much resigned myself to thick accents, dodgy internet access, and a whole lot of boring.... until I spotted my hot neighbor, with his looming height and eerie green eyes. Things were looking up.
And then he opened his mouth.
Daemon is infuriating. Arrogant. Stab-worthy. We do not get along. At all. But when a stranger attacks me and Daemon literally freezes time with a wave of his hand, well, something…unexpected happens.
The hot alien living next door marks me.
You heard me. Alien. Turns out Daemon and his sister have a galaxy of enemies wanting to steal their abilities, and Daemon's touch has me lit up like the Vegas Strip. The only way I'm getting out of this alive is by sticking close to Daemon until my alien mojo fades.
If I don't kill him first, that is.
My Review:
There aren't many books I buy immediately after I read a review, but
Obsidian
was one of them. I fell for the amazing description above and it has a 5 star average rating on Amazon with glowing reviews. Thus, I took the plunge with this first installment of the Lux series. I devoured the book in less than a day.
Obsidian
is hot, hot, hot! It starts off when seventeen year old Katy, who just moved from Florida to West Virginia with her mom, goes next door to ask for directions to the closest market. She finds an incredible hot guy, shirtless with six pack abs and all. But Daemon's downright rude and obnoxious to her. So begins their back and forth chippy retorts, fighting yet flirtly. There's a good reason why Daemon's trying to stop Katy from getting close to him or befriending his sister Dee...they're aliens! The twist isn't actually a spoiler because it clearly states it on the back cover. The real fun is leading up to Katy's discovery of her neighbors' identity, reconciling with it when she finds out and trying to survive attacks from the alien's enemies. I know that sounds kind of ridiculous, but it really works. The story is funny, suspenseful and intoxicating.
There are obvious plot stereotypes that will annoy some readers. The normal teenage girl, who is beautiful but doesn't realize it, meets the gorgeous supernatural guy who's obnoxious but occasionally shows her a softer side. Also, it has those overly dramatic scenes where the helpless damsel in distress is saved by hot supernatural guy, one such incident reveals his secret. I've read these story lines before but it works well here. One of my favorite side notes: Katy is a book blogger who loves paranormal novels. I laughed out loud when she passed time by publishing her "Waiting On Wednesday" post and explains to Daemon why she blogs when she doesn't get paid for it. It was a great touch to the story.
Obsidian
is a downright delicious guilty pleasure. It reminds me of how I fell hard for
Hush, Hush
. It won't become my favorite book, but I'll definitely reread it. The sexually charged banter and chemistry between the leads is what makes this book good. There is some cursing, although I completely enjoyed it when Katy shot them at Daemon for acting arrogantly. He loved it too. Actually, I was more annoyed by the main characters' names. Did Daemon really need the extra "e"? Then Daemon's nickname for Katy is Kitten and Kittycat. Slight gag reflex...but then again I'd take any nickname that Daemon wanted to give me. Gush!
If you're looking for a sexy, new paranormal romance series to sink your teeth in, buy
Obsidian
. I'm glad I did. I'll definitely preorder book 2,
Onyx
, when it releases in May 2012. I can't wait to read more from Jennifer L. Armentrout.
My Rating:
4.5 out of 5!
My Favorite Quotes:
"Since it was Wednesday, I'd typed up a quick "Waiting on Wednesday" post for my blog featuring this YA book about a hot boy with a killer touch--can't go wrong there--apologized for my extended absence, responded to comments, and stalked a few other blogs I loved. It was like coming home." (page 17)
"Time seemed to slow, every second stretching out before me, tantalizing and torturing every breath I took. Waiting, wanting to show him whatever he was looking for as his eyes darkened to a deep green. His face strained, as if he were waging an internal battle. Something in his eyes made me feel very unsure.
I knew the second he made up his mind. He took a deep breath and his beautiful eyes closed. I felt his breath against my cheek, slowly moving to my lips. I knew I should pull back. He was bad, bad news. But my own breath caught in my throat. His lips were so close to mine, I desperately wanted to meet him halfway, to rush forward to test if his lips were as pillow soft as they looked." (page 62)
For More Information:
Read the first chapter of
Osidian
on
Entangled Publishing's website
.
Learn more on
Amazon
,
Goodreads
, and
Jennifer L. Armentrout's blog
.