As promised, here are my goals and reading challenges for 2012. Also, I joined a bunch of new reading challenges. Very exciting! It's going to be a fun year.
2012 Goals:
Read 65 books this year: I read 58 in 2011 so I'll try to top that number. 65 sounds like a good goal.
Review more: I read a lot, but tend not to write many reviews. I'll try to write more reviews in 2012. I'm not satisfied with my review voice just yet. I have to work on fine tuning my review style. I can't let self-consciousness get the best of me.
Spend time working on my challenges: I basically forgot about my A-Z read and release challenge, so I actually should think about reading a few books that will fit in it. This year I'm signing up for more challenges than ever. I need to make an effort to keep track of them all (see below for details).
Visit official BookCrossing zones (OBCZ) more often: I haven't stopped by Black Salt Cafe (my closest active OBCZ) in a while. I want to release books there more frequently.
Visit Indie Bookstores: I want to visit more independent bookstores (and blog about it), both in my area and while I'm on vacation or away at work conferences.
Re-read The Hunger Games: I'm so incredibly excited for the HG movie! I'm going to the midnight premiere with a bunch of friends. I can't wait! In preparation, I have to re-read the book. When I went to the midnight premiere of Harry Potter 7 Pt. 2, my friends made a list of trivia questions which was so much fun while waiting in line. I'll try to make my own list of trivia.
Buy an e-reader? This is a maybe. It certainly would make my purse a lot lighter. Plus, my public library system recently expanded to include Kindle devices. I'm not sure what brand I might buy. I've heard buzz about the Nook, but I don't frequently shop at Barnes and Noble. Maybe something compatible with NetGalley.
BookCrossing Challenges:
This year I'm continuing my usual BookCrossing Challenges and I'm adding several non-BC challenges open to the book blogging world. Check out all the details:
2012 Pages Read Challenge
: It's favorite BookCrossing challenge! I surpassed my 2011 goal of 15,000 pages so I'm bumping up my 2012 goal to
18,000 pages
.
Read Ten 1001 Books Challenge
: I'm a sucker for lost causes, so I'm signing up again to read 10 books from the 1001 Books to Read Before You Die list. I only read 5 books in 2011 and 6 in 2010.
2012 Reduce Mount TBR Challenge
: It's my first time participating in the Mount TBR challenge. I have so many books on my TBR list (I can't even count them). My goal is to knock 25 books off my TBR list this year.
A-Z New Author Read & Release Challenge: This is a tough one because the books need to be new authors you haven't read yet and after reading, you have to register and release the books. I read so many library books that I completely ignored this challenge in 2011. I'll try to knock a few off the list this year. I'll shoot for 3 books.
Non-BookCrossing Challenges
(open to everyone): It's my first time participating in all of the following challenges....Yay! Check out the links below for all the challenge details and to sign up, of course.
Level 3: The Jumbo Size YA Reading Challenge – Read 40 Young Adult novels.
I think I read more than 40 YA books in 2011. Since I want to expand my reading to knock off more of my 1001 adult books, I think 40 YA books is a good goal for this challenge.
Level 1: Gaslight – Choose 6 books to read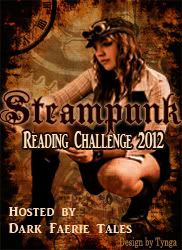 I don't think I've read a steampunk book yet. That's weird. Well, now's the time to start. Six books sounds like a good introduction to the genre.
Level 2: Contagion – Choose 15 books to read
I love dystopian YA. I have a bunch on my Mount TBR list so I should be able to hit 15 without a problem.
Level 3: Sexy Vampires – Read 18 Speculative Romance novels
I'm a sucker for speculative romance...sigh! I'm on an angels and demon kick right now. Plus, steampunk and apocalyptic romance count too. This one is going to be fun.
What challenges are you participating in this year?