My BC Bookshelf Updates will feature my latest BookCrossing (BC) activities including book trades, RABCKs, book rings/rays, challenges, and all things BookCrossing. Enjoy!
I'm so excited...I got a bunch of awesome books over the last few days, including a trade, a RABCK (gotta love rabcks!!!), and my first ARC!
Here's the details:
I
traded
Holly Black's Tithe for the second book of the Dark Days series,
Dayhunter
by Jocelynn Drake. I came across the first book (Nightwalker) by chance from my BC pal sherrisue76. We went to King of Prussia mall in March to wild release books and, after reading the back of the book, I decided to catch the book myself. I'll post a review for both books later this week. The 4th and 5th books in the series will be released this summer. YAY!
Jocelynn Drake's
website
and
blog
!
RABCKs
(Random Act of BookCrossing Kindness) are incredible! Sometimes you get really lucky and an awesome BookCrosser will send you a book from your wishlist. It's one of those things that makes BookCrossing special...a community of book lovers who grant book wishes (sometimes out of the blue). It feels great to send and receive RABCKs.
I received a RABCK in the mail last week!
A Series of Unfortunate Events, The End
by Lemony Snicket. Thank you for the RABCK OboeChica! I'm so happy to receive this book! The series is apart of my permanent collection, at least for now. In the future, I'll probably organize a book box or giveaway. I currently have books 1-7 and 13. This summer I want to read the entire series straight through, filling in the gaps with the help of my local public library.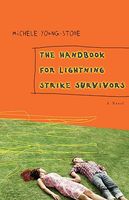 Last but certainly not least, I received my first Advanced Readers Copy (ARC) in the mail! I won a copy of The Handbook for Lightning Strike Survivors by Michele Young-Stone from Crown Publishing Group's Read It Forward website. It was released on April 13th, so it's not technically an ARC since it arrived late...but it's a still a free book. So thrilled to read and review it.
The monthly
Audubon BookCrossers (ABXC)
met on Sunday at the Panera Bread in Audubon, PA (in a shopping center on Trooper Road). If you're a BookCrosser in the Philly area (or just want to swap books for free), please stop by! Meetings usually take place on the first Sunday of the month at 3:00pm, but it sometimes changes due to holidays. Check the ABXC yahoo website for more information.
At Sunday's ABXC meeting, I released four books:
The Lifted Veil by George Eliot
A Moveable Feast by Ernest Hemingway
100 Best-Loved Poems Edited by Philip Smith
Caribbean by James A. Michener
I took two books home with me:
The Stars Shine Down by Sidney Sheldon
Hoot by Carl Hiaasen
(It's a 2003 Newbery Honor book! Plus, it was a unregistered book...which means a non-BookCrosser left it on the table with other wild released books)
That's it for now! I'll post again soon.